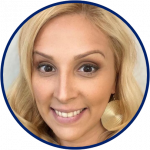 Kristina DeJesus
Get In Touch with Me!
A little bit about me...
Welcome:

My name is Kristina De Jesus and I look forward to meeting you and to assist you in finding the right house that will turn into your dream home. I enjoy working with people.
Call me today and let's get started!


About Me:
I was born in Tacoma, WA. I am married and have two children of college and high school age.


My family and I moved to Dunnellon, FL from Baltimore, MA. I have also lived in Puerto Rico and speak fluent English and Spanish. I enjoy restoring old furniture and interior decorating.


Specialty Markets:

Residential

Experience:
My previous experience of purchasing three homes, using Real Estate agents, one of which answered all of my calls, led me to become a residential Real Estate agent myself...to help people find the home they are looking for that meets all of their real estate needs.
Team Member:
I work closely with Brian McCarthy, Real Estate Agent at Coldwell Banker Ellison Realty.
Languages that you speak:

English and Spanish

Company Affiliation:
Coldwell Banker Ellison Realty, Ocala Florida (West Office)
CBER Profile:
https://kristinadejesus.ellisonrealty.com/